18 Sep 2020
Consul General of Mexico in Guangzhou: Mr Carlos I. Giralt-Cabrales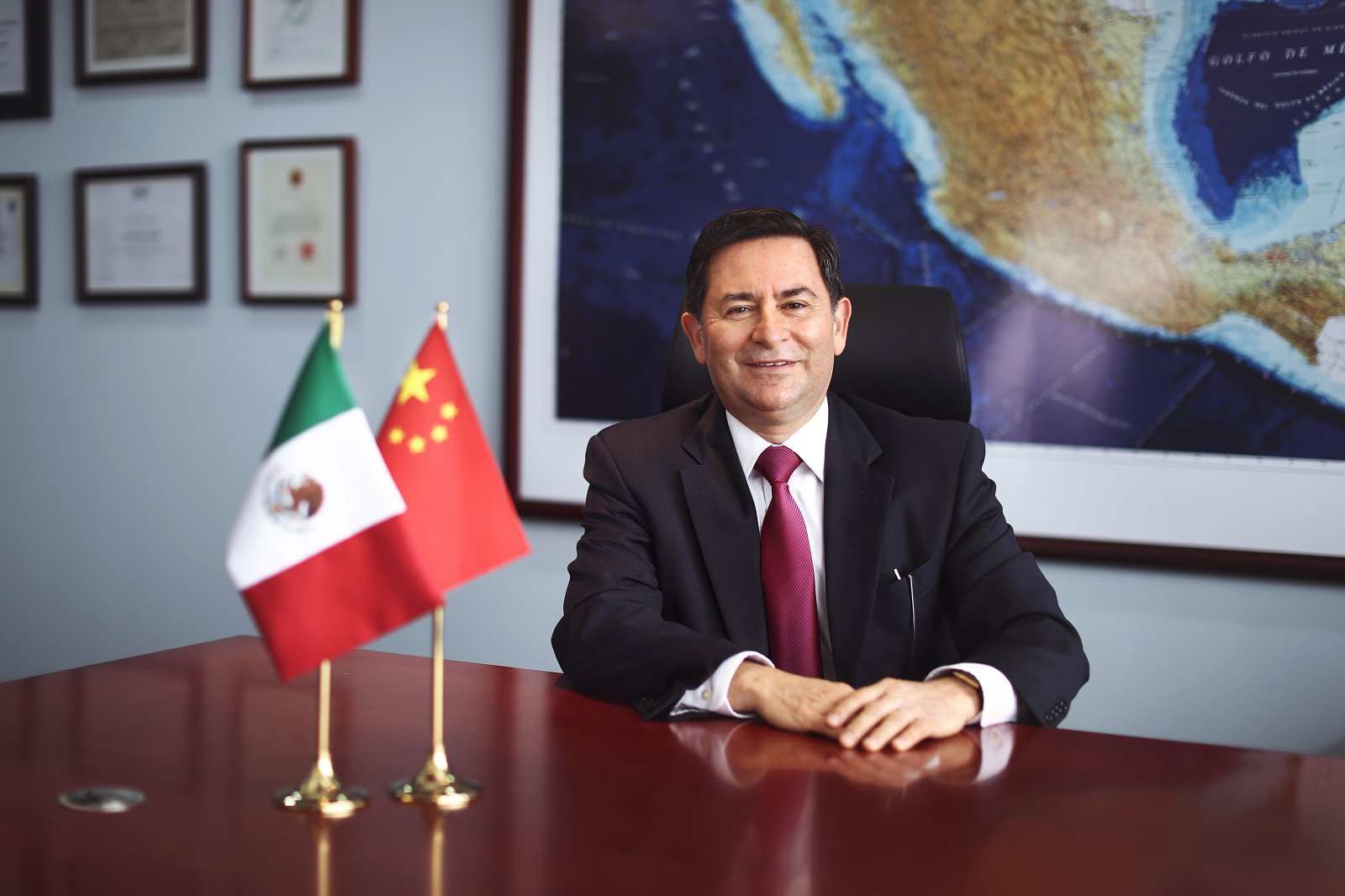 A highly accomplished diplomat who has received several accolades accorded to members of the diplomatic community, Mr Carlos I. Giralt-Cabrales has had long and productive diplomatic career with the Mexican Ministry of Foreign Affairs. Before his appointment as the Consul General of Mexico in Guangzhou in July 2016, he had served as Deputy Consul at the Consulate of Mexico in Philadelphia, Pennsylvania, USA; Deputy Consul and Acting Consul General at the Consulate General of Mexico in Sacramento, California, USA; Consul of Mexico in San Bernardino, California and Consul of Mexico in Philadelphia, Pennsylvania, USA. In 2017, he was promoted to the rank of Ambassador in 2017. The Culture Embassy Pte Ltd spoke to Mr Carlos I. Giralt-Cabrales to gather his insights on the latest developments on Mexico's relationship with Asia.
What inspired you to pursue a career in diplomacy?
When I was young, I have never thought that I would ever become a diplomat. Back then, I was interested in Economics and so I studied Economics at the university and I always thought that I would become an Economist.
But when I was 20 years old, an opportunity came along for me to work for the Ministry of Foreign Affairs in a part-time and temporary role. During the day, I would attend university classes and then in the evenings, I would work for the Ministry of Foreign Affairs. It was not easy to juggle my studies and work, but I found myself becoming more interested in the work that I was doing.
In 1990, an opportunity presented itself. I sat for a test to determine if I was a suitable candidate for the Mexican Foreign Service. As fate would have it, I passed and subsequently got my first permanent posting in 1991, although I had started working for them since October 1983. I always thought I was going to work in some office, analyzing some financial or economic data, but I somehow ended up pursuing a career in the Mexican Foreign Service, but I have no regrets.
I have spent the last 29 years as a diplomat and I still love what I do.
What were some of your most memorable experiences in your career?
One of the most memorable moments in my career would have to be my promotion to the rank of Ambassador in April 2017. For me, it was a significant milestone and a culmination of 26 years of work in foreign affairs, back then.
I will also cherish all the moments when I addressed my fellow Mexicans to join in the celebrations of one of the most important milestones in our nation's history, the Mexican Independence Day, which marks the beginning and birth of Mexico. To be able to join all my fellow Mexicans and other guests in the wonderful celebrations was and will always be memorable for me.
This year, unfortunately, we cannot organize a physical event due to the challenges that the world is facing now. However, what history teaches us is that if we unite together as the human race, we can overcome any problems and issues that come our way.
What fascinates me about this career is the ability to assist people in need and I have been blessed with such a rewarding experience to be able to serve my fellow Mexicans and others in my capacity.
I would like to extend my most sincere thanks and heartfelt gratitude to the whole team at the Consulate of Mexico in Guangzhou for their hard work in reaching out to the Mexicans and guests from other cultures and nationalities. Without them, the cultural events that we organize and the consular assistance that we provide to members of the community would not have been possible. So, from the bottom of my heart, Muchas Gracias!
Mexico has always been regarded as a country that is welcoming and friendly. Can you share with us some aspects of Mexico's culture that makes Mexicans so hospitable?
I think this is because Mexicans and our friends from Asia share many common values. The first similarity that we have is the importance we place on our families. Like in Asia, the Mexicans place a high degree of emphasis on family and kinship. We like to spend time bonding with family on the weekends and share a good laugh over a meal or a drink.
At the end of the day, we want more people to get to know Mexico and travel there to discover the true beauty of Mexico. Our country is very welcoming, and we Mexicans have a saying, "Mi casa es su casa" which means my home is your home.
We would like to invite tourists from all over the world to come and visit beautiful beaches in destinations like Cancún, Tulum or Cabo San Lucas. Mexico is home to over 30 World Heritage Sites, and we are a country full of culture that we would like to share with the rest of the world.
Can you share with us the significance of the Día de la Independencia? What is the story behind this milestone?
The Independence Day in Mexico celebrates the day in 1810 that Miguel Hidalgo y Costilla, a priest and one of the leaders fighting for Mexico's Independence, made the Call for independence (El Grito de la Independencia, or Grito de Dolores) in the town of Dolores, in the north-central present-day state of Hidalgo. This call to action by Hidalgo and his fellow revolutionaries helped to mobilize the townspeople of Mexico in revolution against the colonial masters. The colonial masters were eventually defeated and a new nation was forged. This was a significant milestone because it marked the birth of our nation, and the beginning of our Mexican heritage and our identity as Mexicans.
Trade between Mexico and Asia has risen significantly over the years. What are some of Mexico's major exports to Asia?
Mexico's USD 1.3 trillion economy is the second-largest economy in Latin America and the 15th-largest economy in the world. The number of Free Trade Agreements between the 2 regions have also increased significantly over the years, which have also allowed companies to capitalize on these FTAs to conduct business and commerce.
Currently, Mexico's major exports to Asia, especially China, include the following:
· Vehicles, parts and accessories
· Integrated electronic circuits and integrated hybrid circuits
· Copper minerals and concentrates
· Parts for the aeronautical industry
This list is not exhaustive. However, besides our export industries, I would also like to highlight Mexico's manufacturing capabilities. The advantages of manufacturing in Mexico are many: lower labour costs, abundance of free trade agreements, and access to a skilled workforce. Mexico's manufacturing industries, especially in aerospace, automotive, electronics, and medical devices, are known not just for the lower costs, but the quality of production as well. Over the years, Mexico manufacturing has garnered a reputation for producing quality goods in highly technical industries.
Goods and services have also been flowing from Asia to Mexico. What are some of Mexico's most significant imports from Asia?
Mexico's most significant imports from Asia:
· Equipment and its parts for automatic data processing
· Parts and parts of televisions, radios and wireless communication equipment
· Automatic data processing parts
· Clothes and accessories
Some of the imports are for Mexico's domestic consumption but there are also a lot of imports of components and raw materials that flow to Mexico from Asia and, then processed at our Mexican factories before we export the finished products to the other parts of the world. Mexico's manufacturing sector and our factories remain open to business and despite global events and the pandemic, we remain committed to free trade.
What do you foresee for Mexico's role in the world in the era of COVID-19? Will it push for more freedom of trade or become more isolationist in its approach?
Mexico is always open for business and the COVID-19 is not going to change any of that. This is also why the Mexican President Andrés Manuel López Obrador has nominated Mexican Undersecretary of Foreign Affairs, Dr. Jesús Seade to the post of Director-General of the World Trade Organization (WTO). Jesús Seade is a very strong and suitable candidate for the role because he possesses and has an extensive understanding of the economies and trade dynamics in Africa, Latin America, Asia, Europe, the Middle East and North America, and has well-established relationships with the leading actors in world trade. His extensive experience in the most important international economic organizations —including the General Agreement on Tariffs and Trade (GATT), the International Monetary Fund (IMF), the World Bank (WB) and the World Trade Organization itself— is a proven track record of his abilities within these key multilateral trade institutions.
The nomination of Undersecretary Seade to the post of WTO Director-General by the Government of Mexico is a sign of our nation's unwavering commitment to the multilateral order and freedom of trade. Mexico is nominating a strong candidate with the experience and ability to represent the best global interests in free trade, at this crucial moment where the world needs to unite to protect and promote multilateralism and international cooperation.
What's Trending?
Most Popular